Azores held MarSP Final Conference
06 December 2019 • 06 December 2019
The Azores was host of the MarSP Final Conference this 6th December, in São Miguel island – Azores, with the organization of the Regional Fund for Science and Technology (FRCT),one of MARSP partners.
The final conference aims to share the key outcomes and milestones while providing an overall approach of Maritime Spatial Planning at a Regional, European and International scale.
MARSP has 9 partners, having FRCT as the project coordinator. From those partners there are other 3 that are from Outermost regions, as the Regional Directorate for Sea Affairs (Azores – Portugal), the Regional Secretariat of the Environment – Regional Directorate of Spatial Planning (Madeira- Portugal) and the University of Las Palmas de Gran Canaria (Canárias – Espanha).
The MarSP partners presented the Macaronesia's currents conditions and constraints, as well as the potential marine uses, MSP Roadmaps and implementation guidelines, MSP Platforms, tools for regional Cross-border cooperation and even a special focus on the MarSP Stakeholder Engagement Processes.
The Regional Secretary of the Sea, Science and Technology in Azores, Gui Menezes (in the photo below), who spoke at the opening session of the final conference of the 'MarSP' project, stressed that in recent years "the Region has compiled geographic information about marine space and developed a Geographic Information System applied to the sea", as well as "exploratory technical work on coherent and consistent maritime spatial planning methodologies".
All planners, researchers and communicators were invited to share insights and initiatives on MSP related issues. This conference was also a chance to promote projects, find new partners and get together MSP experts and stakeholders.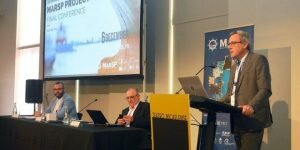 Teatro Micaelense, São Miguel island, Azores